Staff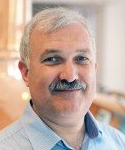 Kim L. Johansen, Headmaster
Kim has been training manager at SSB since 2009 and leading the school since 2017. Prior to that he worked on planning and design projects for 16 years. Kim coordinates the course programs as well as lecturing at SSB, and provides consultancy services to the global beverage industry. Putting his brewing knowledge to good use, Kim is a cider specialist and produces his own traditional cider on a small scale.
Dorthe Sommer, Client Care Manager
Dorthe Sommer handles all communication with students and lecturers from first contact to you receive your diploma.
Dorthe joined the school in 2009. Dorthe knows the beer brewing business from a sales and marketing perspective from her time in Carlsberg and Coca-Cola. Her educational background consists of market economist. From her communiaction studies she inspires with knowledge about social media and how to act strategically.